Links are not working?
It's the fault of

AT AMAZON
Discount -18%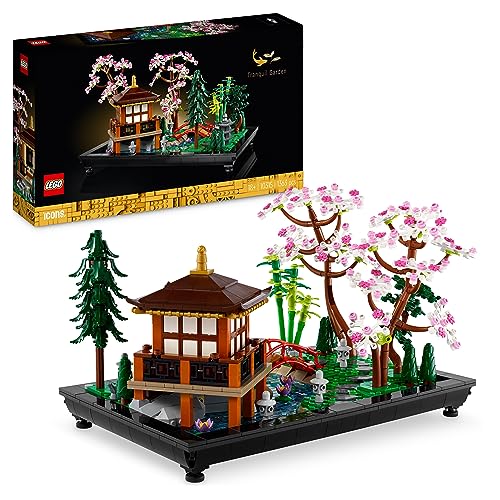 NAVIGATION
ON THE LEGO SHOP
NEWS BY THEME
PROGRAMMATIC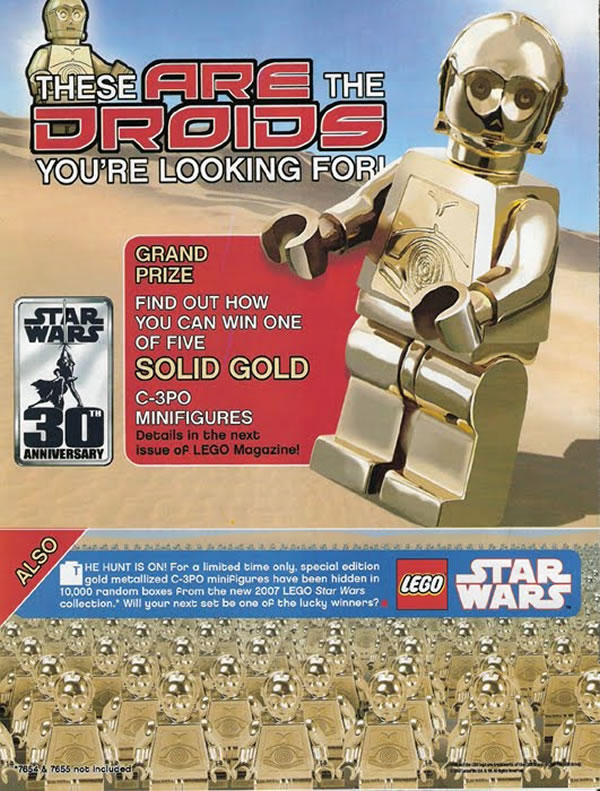 You've all more or less heard of the various limited editions of the C-3PO minifigure released to date, but there is some confusion as to which versions are released and what quantities are released.
[2007] C-3PO in solid 14k gold [Solid Gold C-3PO]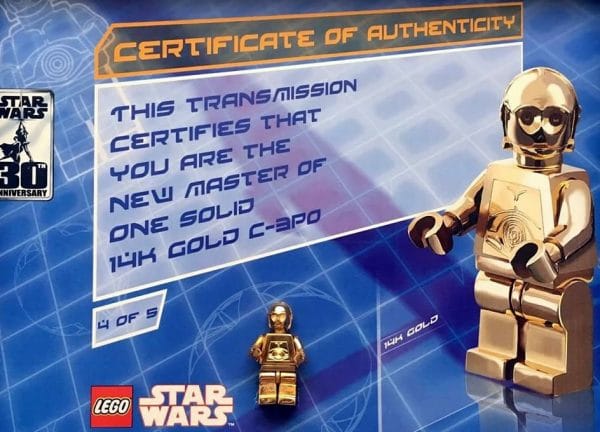 To date, there are only 5 examples of this solid gold minifigure, not one more.
It was produced in 2007 and was distributed as a prize for a competition organized by the LEGO company. It is broken down into 3 parts, head, torso and legs, not articulated. The torso has benefited from a specific engraving.
Different versions circulate as to the material used in the design of this minifigure: The use of pure gold would have been impossible, the material being too "soft", and this minifigure would in reality be gold plated. However, no one could really verify this statement .....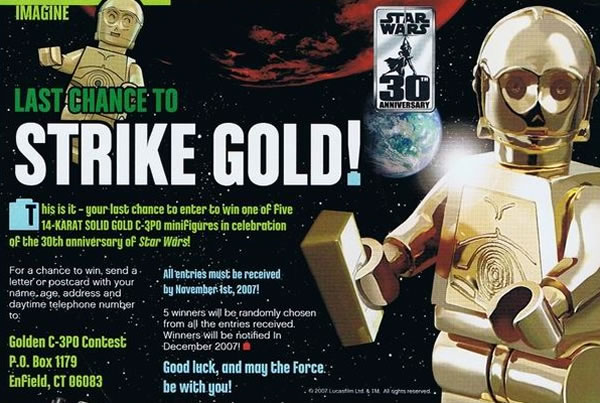 The lucky winners (Andrew Hoffman, Christopher Giancola, Elizabeth Jacome, Jason Masey and Chris Melchin from the list published by LEGO Magazine) were selected in December 2007, and this minifigure did not appear on the resale market of LEGO Star Wars products since.

July 2011 update:
Strange topic that the one opened on Eurobricks by a certain JimH who announces that his son is one of the lucky holders of this 14K solid gold collector minifig, only produced in 5 copies and distributed as an endowment for a competition organized by the LEGO company in December 2007.
There followed a whole slew of reactions from overexcited forumers at the idea of ​​having finally found one of the winners of this priceless prize for collectors.
Everyone has their own advice: Should we sell, keep, sell on eBay or in a real auction house, etc ... with sometimes some reactions tinged with jealousy and skepticism ...
In short, the discussion is a bit surreal but it is worth a look if you understand a little English.
If you want to exchange a few words with the owner of this exclusive minifigure that I was telling you about elsewhere in this article and who must start to believe that he will be able to pay for his kid's studies with the proceeds of the sale, go to the dedicated topic on Eurobricks.
This minifigure has been produced in 10.000 copies. This is a plastic minifigure covered with gold colored chrome and delivered in a white bag mentioning the limited nature of this edition and celebrating the 30th anniversary of Star Wars.
This minifigure was inserted randomly in sets marketed in the United States in 2007 (except for battle packs). this minifigure is in all points similar to a classic C-3PO minifig, it is articulated in the same way. His torso is screen printed.
This minifig can be found for sale on bricklink, Amazon ou eBay at exorbitant prices depending on the presence or not of the bag (sealed or not).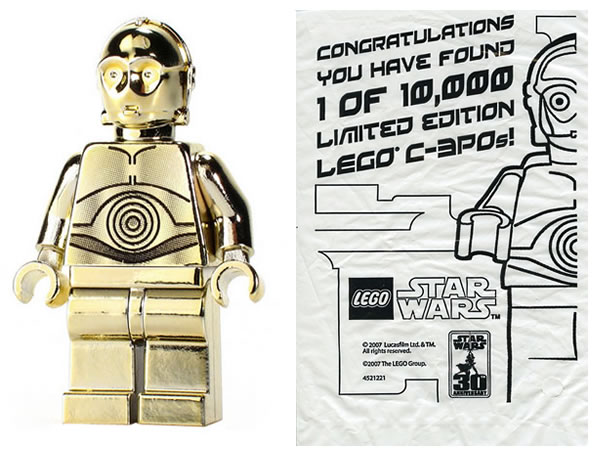 Note that this minifigure was also distributed in Australia with different packaging. This is a limited edition of 100 pieces that were offered to the winners of a competition organized in 2007 by the Australian LEGO Club Magazine.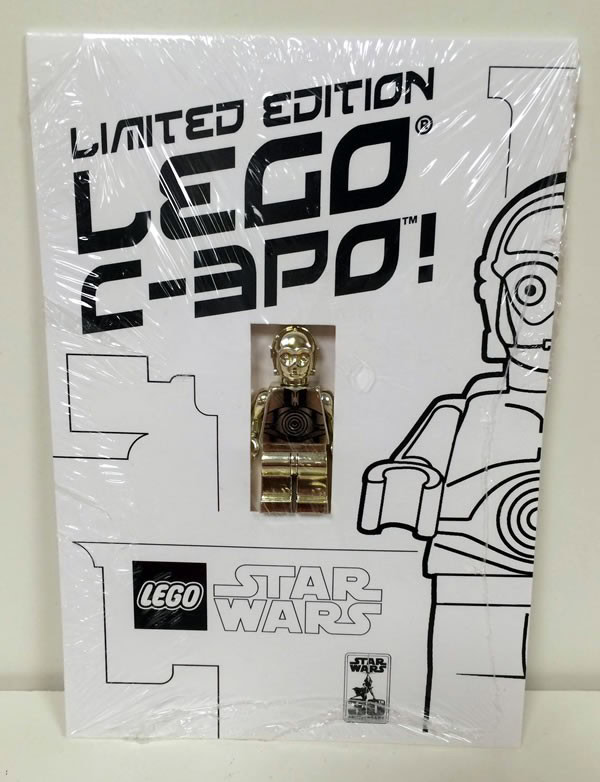 [2007]

C-3PO Bronze [San Diego Comic-Con 2007 Exclusive]
This unique minifig was created for Comic Con in San Diego (USA) in 2007 and was offered through a raffle.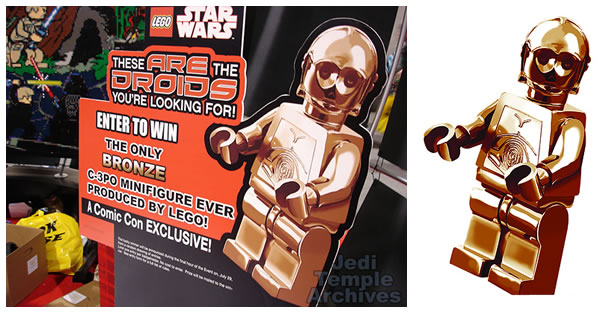 [2007]

C-3PO Sterling Silver [Exclusive Celebration VI]
A single silver minifigure of this type has been produced and was offered as a raffle at Celebration IV in Los Angeles (USA) in 2007.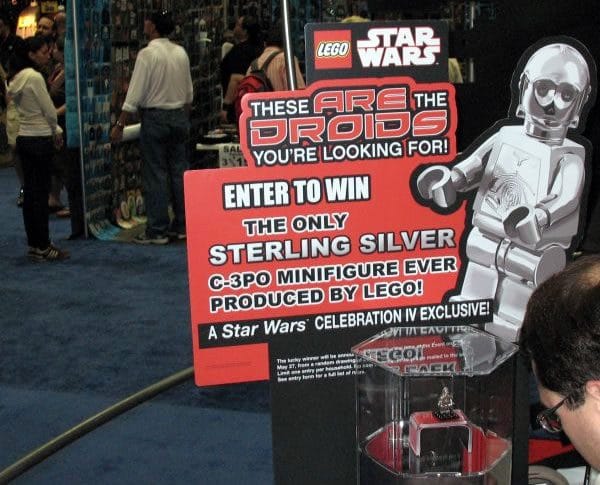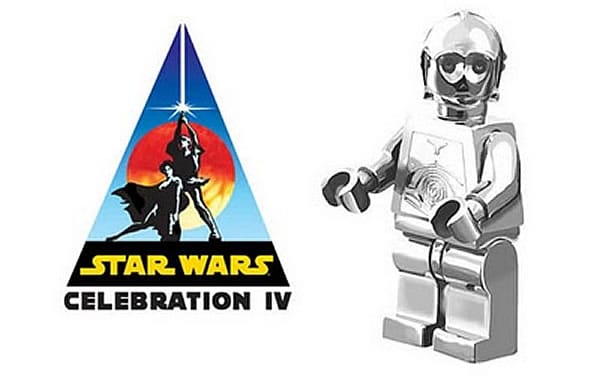 [2012]

Polybag LEGO Star Wars 5000063 - TC-14
This is not C-3PO but another protocol droid with a similar design: TC-14 is a minifig offered on May 4 and 5, 2012 on the LEGO Shop and in the LEGO Stores with any purchase of a minimum amount of 55 €.
This polybag was then offered again in October 2012, still in the LEGO Shop and in the LEGO Stores.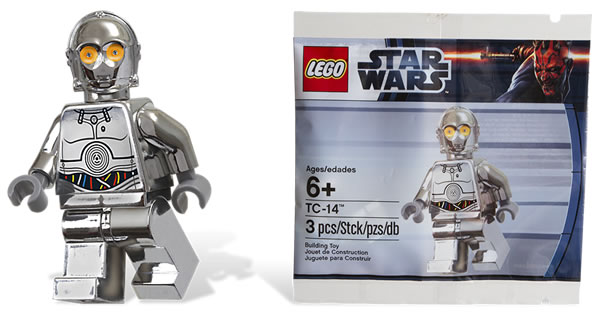 [2014]

LEGO Star Wars Polybag 5002122 - TC-4
Another protocol droid very similar to C-3PO with this TC-4 almost unknown in the Star Wars universe released in 2014 and distributed in many brands: Toys R US in Hong Kong, Toys R Us in Great Britain or even in the Broze and Bart Smit stores in Belgium.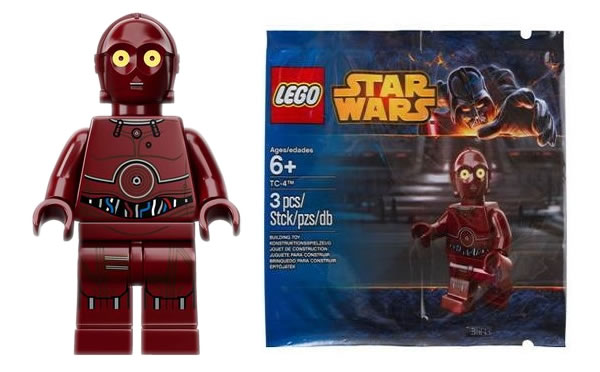 [2015]

LEGO Star Wars Polybag 5002948 - C-3PO
This version of the protocol droid, featured in the movie Star Wars: The Force Awakens is available in France in December 2015 via the LEGO Shop (Polybag offered from 30 € purchase in products from the LEGO Star Wars range).