Links are not working?
It's the fault of

AT AMAZON
Discount -18%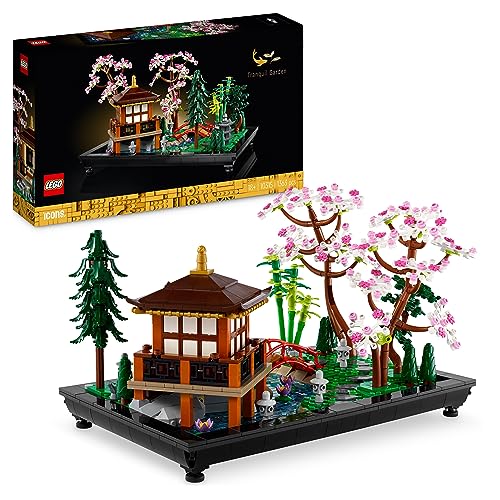 NAVIGATION
ON THE LEGO SHOP
NEWS BY THEME
PROGRAMMATIC
Today we take a quick tour of the content of the LEGO Ideas set 21342 The Insect Collection, a box of 1111 pieces freely inspired by the creation put online by Hachiroku24 (José María Pérez Suero) on the LEGO Ideas platform and which will be available in VIP preview from September 4, 2023 at the retail price of €79.99.
It should probably be recalled once again, the LEGO Ideas platform exists to collect ideas and LEGO then reserves the right to adapt and transform them into marketable products. It is therefore common for the official version of an idea allows itself a few liberties and other more or less justified shortcuts.
Those who had followed the evolution of the project concerned until its arrival in the review phase at LEGO and its final selection have necessarily noticed that LEGO has taken up the initial idea in broad outline but that some of the insects present have been reduced to their simplest expression.
One could imagine that the designer wanted to keep a semblance of scale between the different protagonists of this box, this could then explain that the bee and the ladybug only benefit from a minimal treatment in the official version of the box. 'idea.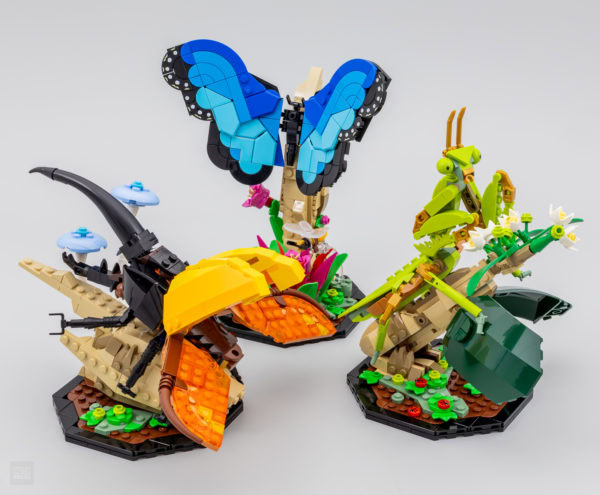 This "collection" of insects therefore comes down to three large detailed constructions, a minimalist bee and four ladybugs symbolized by Tiles pad-printed rounds. On the other hand, we obtain three small flat bases decorated with a few plant elements which allow the insects to be presented in good conditions, it is always better than placing them loose on a shelf as presented in the initial project.
These supports are obviously coin-consuming and a large part of the inventory passes into these dead branches, these mushrooms and other flowers which welcome the insects in situation. I finally find this solution welcome, it gives cachet to the three constructions and it allows to expose the blue morpho butterfly, the Dynaste Hercules beetle and the Chinese mantis in a readable and dynamic context.
LEGO provides four instruction booklets in this box, three for the insects to build and a fourth booklet composed of a few pages documenting the species concerned as well as the inventory of the box. It will therefore be possible to assemble the product with several people, it is always a valid argument in favor of a certain user-friendliness.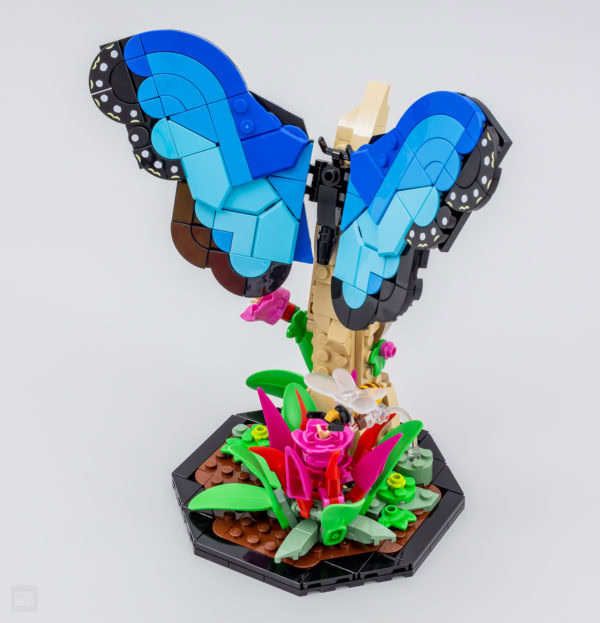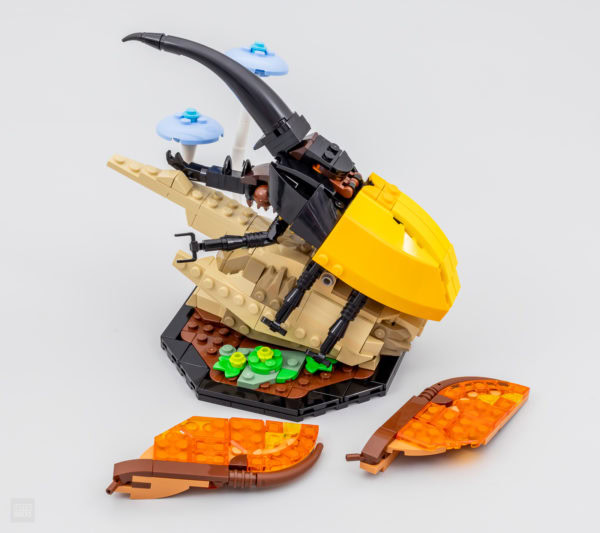 Whether the subject speaks to you or not, this product at least has the merit of bringing freshness to the LEGO catalog which sometimes tends to purr a little and often to surf on its achievements. The three insects are fun to assemble, there are good building ideas and the result is visually stunning. Don't spoil yourself too much about the different stages of assembly of each of these insects, all the pleasure provided by this product is there and you will probably not be disappointed.
Fans of misuse of certain parts will also find something to have fun here, with bucket handles, pistols or even crowbars used to refine the aesthetics of these different insects.
As you probably already know, I only appreciate these misuses when they are used in moderation and that is pretty much the case here. No stickers in this box, the borders of the wings of the blue morpho butterfly, the look of the Chinese mantis, the ladybugs and the abdomen of the bee are therefore stamped.
In terms of faults that I have been able to identify: the fragility of certain sub-assemblies which can quickly become annoying during construction. But it is not a toy for children and each insect can be moved without breaking everything by catching the support on which it is firmly fixed. I also notice a few scratched parts right out of the box and it's always more annoying on a detailed construction that uses few parts than on a massive ship in which technical faults drown more easily.
Some may regret that the insects are here a little less the "stars" of the product due to the presence of visually invasive plant elements, this was undoubtedly the price to pay to make the initial idea more suitable for a product targeting an adult clientele who wishes to display a beautiful object, not just put a butterfly or a beetle on their shelves.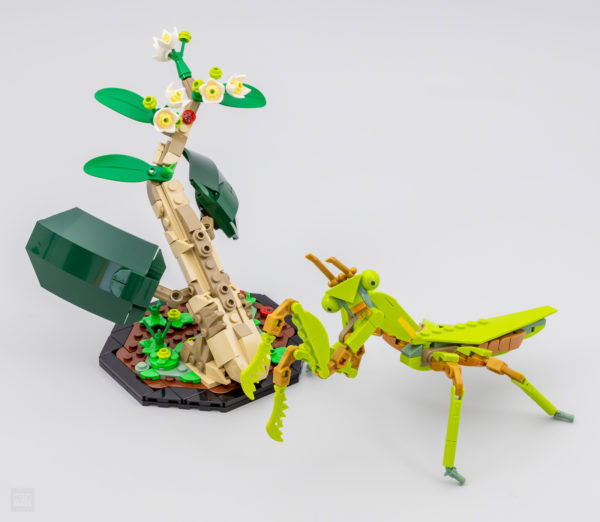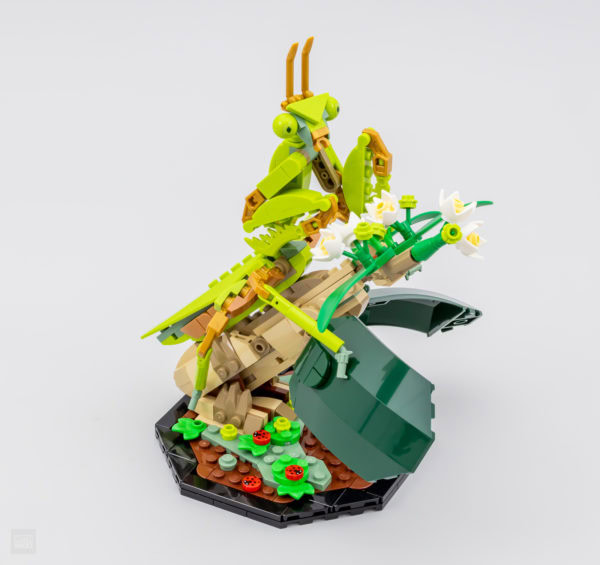 Entomology is not one of my passions, so I don't see these three pretty constructions being exhibited at home, but I appreciated being able to assemble them between two vessels and other less poetic dioramas.
And it is above all for this variety that the product brings that it should not be neglected, it allows you to change your mind a bit, to discover some rather original construction and finishing techniques and to build something relatively realistic. . The mix of colors used is well chosen, the overall assortment works aesthetically with a fairly satisfactory visual balance.
If you have 80 € to spend at the start of the school year in addition to your usual purchases, do not ignore this product, it provides a few hours of pure construction pleasure with a result with interesting decorative potential, especially if the mysterious world of insects excites you.
It remains to be verified that all those who voted for the initial idea will be there when it comes to checkout, the eventual commercial success of the product will necessarily have an influence on the future choices of the product. team in charge of validating LEGO Ideas projects. For my part, I remain an avid fan of licensed lines like Star Wars or Marvel, but I do not say no to something a little innovative and refreshing from time to time.
Note: The product shown here, provided by LEGO, is as usual involved. Deadline fixed at August 31, 2023 next at 23:59 p.m. Just post a comment under the article to participate. Your participation is taken into account regardless of your opinion.
Update : The winner was drawn and notified by email, his nickname is indicated below.
Samuel perez - Comment posted the 23/08/2023 at 19:15